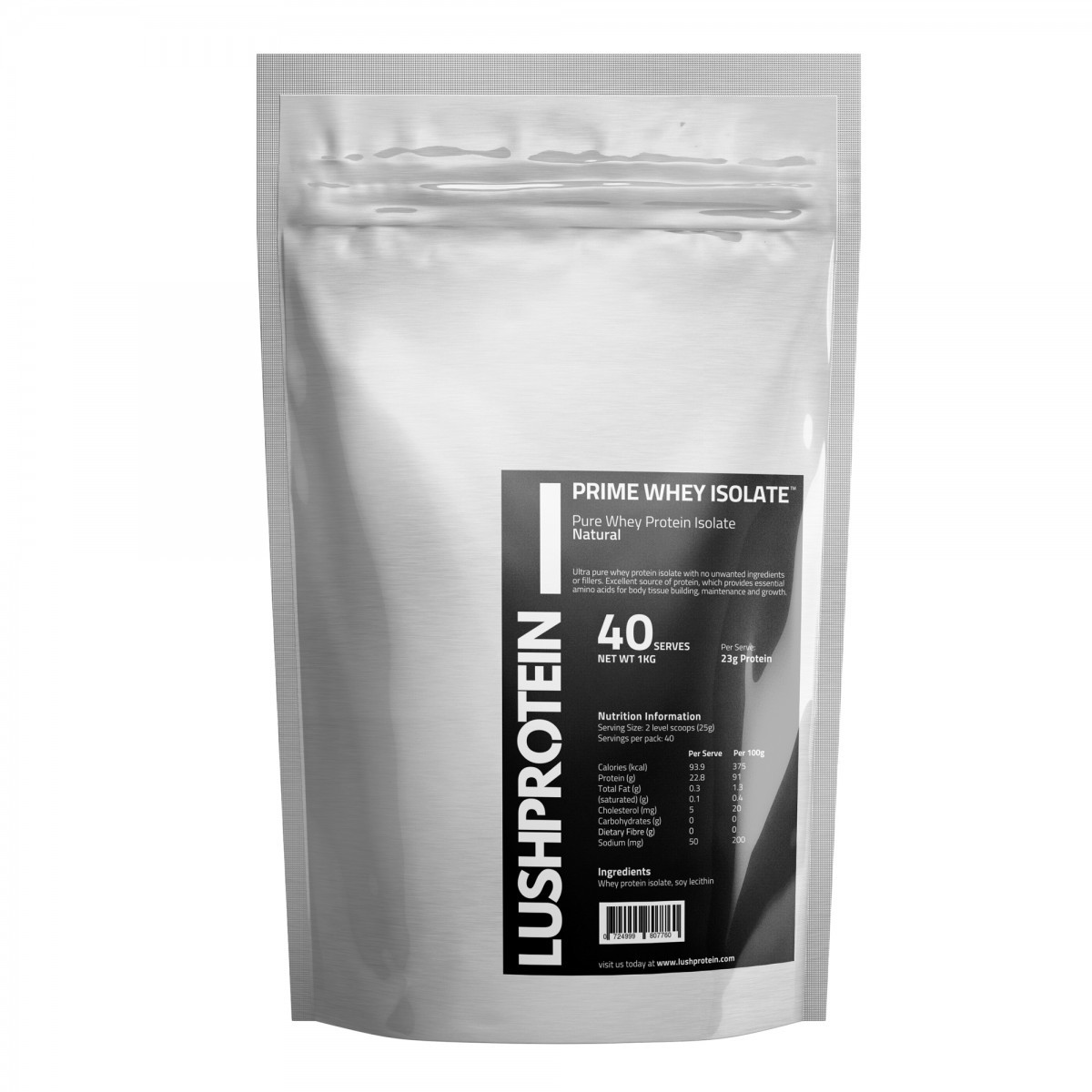 Lush Protein (Prime Whey Isolate - 40 servings)
What is Prime Whey Isolate™ ?
Virtually No Fat, Carbs and Lactose
Our Prime Whey Isolate™ is one of the purest whey protein isolates on the market with an unrivalled 97% protein per serve.
Contains no carbs or lactose and less than 0.5g of fat per serve, whey protein isolate offers the most rapidly digested and easiest absorption of all protein sources which makes it the default choice for elite athletes and bodybuilders. Prime Whey Isolate™ is made only with ultra pure natural whey protein isolate with no added fillers, thickeners and additives. Users who are especially sensitive to lactose or are on a strict calorie-deficit diet will also find Prime Whey Isolate™ an exceptional choice.
LushProtein™ Prime Whey Isolate is completely undenatured with an excellent nutritional profile, with over 20% more BCAA (Branched Chain Amino Acids) than most leading brands. Instantised to easily mix with a spoon, it has a clean neutral flavour which is versatile enough to add to virtually any drink. Sourced from one of the leading diary producers in the USA.
Per kg: 40 Serves
Per Serve: 24gm Protein | 6gm BCAA
✓ Ultra Pure Grass-Fed Whey Protein Isolate
✓ Free from Hormones, rBST, Antibiotics
✓ No fillers, additives & thickeners
✓ No lactose or carbs, minimal fat.
✓ 20% more BCAA content than leading brands
✓ Exceptional for muscle definition & recovery
✓ Ideal for controlled weight loss

Unparalleled quality. Simply the purest whey protein isolate on the market with up to 97% protein per serve and virtually no lactose, carbs and fat.



Nutritional Profile
| | | |
| --- | --- | --- |
| Prime Whey Isolate™ | Per [100gm] | Per Serve [25gm] |
| Calories (kcal) | 375 | 94 |
| Protein (g) [Dry Basis] | 97 | 24.3 |
| Protein (g) [As is Basis] | 91 | 22.8 |
| Fats (g) | 1.3 | 0.3 |
| Saturated (g) | 0.4 | 0.1 |
| Cholesterol (mg) | 20 | 5 |
| Carbo (g) | 0 | 0 |
| Sodium (mg) | 200 | 50 |
---